When I came out about 70 seconds later, the thieves had the boot open and my luggage on the ground. They ran away, and I was too old to give chase. Amazingly, nothing was lost, but it made me think. These thieves will progress from theft out of cars to car theft, car hijacking, drug trafficking and human trafficking. Ultimately, reaching the top of the totem pole for local career criminals, they might even become politicians. Shoot them now, I say, while there is still time.
If that's not an option, then one of the ways to frustrate them is to drive a Changan Star 111 SC Lux single cab bakkie. The secret? It can't be jammed, since it does not have central locking or a remote key function.
This little bakkie is unashamedly utilitarian, with no other aspirations than to be a value-for-money workhorse. It comes powered by a four-cylinder, 1243cc petrol engine that delivers 72kW of power and 119Nm of torque. Said engine resides under the cabin floor, from where it transfers the grunt and twist to the rear wheels via a five-speed manual gearbox.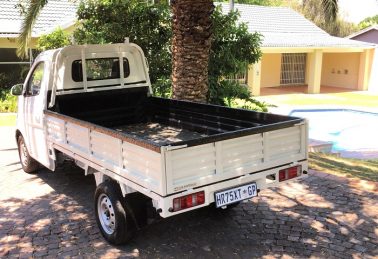 The vehicle is tiny – 4 560mm in length, 1 620mm in width and 1 890mm in height. Its cargo box is 2 750mm long and 1 520mm wide, totally flat, and the vehicle is capable of carrying a ton of cargo. The whole package sits on 14- inch steel rims in 175/70R14LT rubber, with disc brakes front and drums rear. Adding to its uniform as a working vehicle, it boasts rubberising in the entire load bay and a full-sized spare wheel.
The cabin is small, especially if you are, like me, a fat old man. I squeezed in behind the steering wheel with a lot of grunting, and battled to get comfortable, even with the bench seat as far back as it could go.
Younger, slimmer people should not have the same problems. The interior does boast a steering lock, a heater and an AM/FM radio with auxiliary port and clock. Despite the small cab, the Changan was fun to drive. There is something satisfying in driving something absolutely basic – like the Ford Anglias and Escorts I grew up with.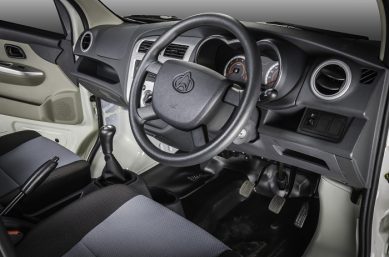 The Changan felt solid, the steering was direct, the gearbox simple to operate, with stuff like the pedals and steering wheel stalks placed exactly where you would expect to find them. Fast it is not. Changan say it has a top speed of 120km/h but we could not get there without the assistance of downhills on the highways. That will not worry the bakkie's intended customers.
They will be more interested in its turning circle of six metres and its fuel consumption of 8.2l/100km. The Changan costs R151 880, which includes a three-year/ 100 000km warranty and 24-hour road assistance.
For more news your way, download The Citizen's app for iOS and Android.