I did and found myself being an involuntary guest of the SA Defence Force for the next year. Then I became a journalist and unfortunately I fell in love with it and found out that all professional writers will surely die poor.
Along the way, I had various girlfriends and married three of them, only to find that marriage causes reborn virginity, followed by expensive divorce proceedings. I looked forward to the dignity of advanced years, only to become old, fat, ugly, full of crap and materially bereft. Girls used to be nice to me because, deep inside, they were scared of me.
Now they are nice to me because, deep inside, they are sorry for me. It is not the same thing. See, nothing is perfect. Take Honda, for instance. When they tackle international motorsport, they win MotoGP world titles, but had their fair shares of Formula One struggles over the years. But their road vehicles are generally highly regarded, and we looked forward to a week with the Honda HR-V 1.8 Elegance as a house guest.
At first glance, the vehicle looks pretty much like any other SUV, but the distinctive front grille, large Honda badge, distinctive LED fog lamps and daylight running lamps leaves no doubts as to its origin. I have learnt not to pass judgment about vehicle styling; I am certainly not an artist and therefore not qualified to criticise what others find appealing. That is why we have photographs – take a look herewith and decide for yourself.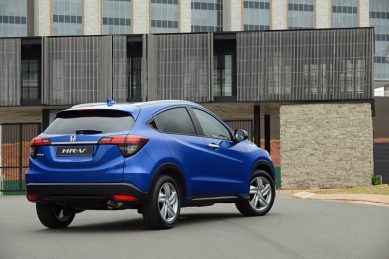 The HR-V comes powered by a four-cylinder, 1799cc, normally aspirated petrol engine that uses programmed fuel injection to develop 105kW of power at 6 500rpm and 172Nm of torque at 4 300rpm. These forces are fed to the front wheels via a seven-step automatic CVT gearbox. It has McPherson strut suspension front and a torsion beam axle rear, disc brakes all round, and sits on 17-inch alloy wheels in 215/55R17 rubber.
Safety features include stability control, ABS with EBD and emergency brake assist, a Hill Start Assist system, six airbags and a high-mounted third brake light. Inside, leather seats with heating options will accommodate five adults in comfort, while the load bay offers an extremely useful 393 litres of space.
The rear seatback can also be folded flat to allow the loading of near-industrial sized goods and chattels. Other storage spaces include a centre console box and pockets in the back of front seats. The infotainment system comes in a large touchscreen with HDMI and USB connectivity, Bluetooth and audio streaming via four speakers. The vehicle also offers electric windows and mirrors, keyless entry and climate control. All of which is great, but there are compromises.
The HR-V feels, with a gross vehicle mass of 1 863kg, heavy. It doesn't accelerate rapidly, with the engine's power and torque never finding a really sweet spot within the seven-speed continuously variable transmission's range. The power plant needs to be revved uncomfortably high to gain any semblance of rapid forward projection.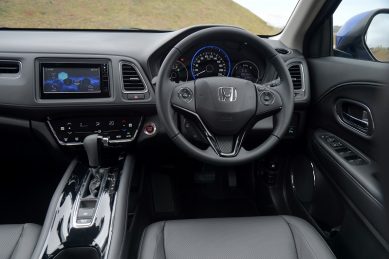 This makes for jerky progress both in traffic and on the highway, with the gearbox kicking into lower or higher gears at inopportune moments. The ride is comfortable, with the steering precise and direct. We did not tackle corners with verve, since very few Honda HR-V buyers will probably do stuff like that, but in general the vehicle's handling was neutral, confidence inspiring and a pleasure.
Which makes the CVT system all the more regrettable – it is the compromise that spoils so much of a really good concept. Maybe we are too particular, and thousands of soccer moms who get to transport kids around the city will never even notice that their car is sometimes swapping cogs without need and inefficiently.
The HR-V's average fuel consumption during the test worked out at 7.6l per 100km, though we did not make any attempts to drive it frugally. Somebody with the need to seek economy – like a soccer mom for instance – should achieve better figures.
We are sure Honda will sell many of these vehicles, which will, in the test car's case, set you back R428 300. The price includes a five-year/200 000km warranty and a four-year/60 000km service plan. Services must be done at 15 000km intervals.
For more news your way, download The Citizen's app for iOS and Android.