The honest to God truth is that I had no idea what I was doing when I started breastfeeding. This is why I am so grateful to the staff at Genesis Maternity Clinic for their guidance. They patiently taught me how to hold my baby right, get her to latch on properly and to sit upright when I did it.
The one thing I never received was a heads up about what an emotional rollercoaster breastfeeding would be. This is the part that we don't speak of. We never really hear moms talking about the emotional experience that takes place during breastfeeding.
I felt a wave of emotion 3 days after birth as I was leaving the hospital. One of the nurses assured me that it is very normal because my milk is coming in. Hours later. my breasts were filling up with milk. I was an emotional wreck for the best part of the day. I was not prepared for that.
One other thing I was never prepared for was the weaning off part of breastfeeding.
Around December 2018, I decided to wean my daughter off the boob because she was growing very dependent on it. She was not coping in public spaces and would never want to play with other kids when I was around. When she saw me, she saw boobs and that's all she wanted. So, I felt that I needed to help her gain her independence as the boobs were inhibiting her ability to engage socially.
So for her sake, and mine, I decided to wean her off. I remembered the breastfeeding strike she went on when I was away for 4 days without her. I came back from being hospitalized, and she did not want to latch back on. This is called a breastfeeding strike. It happens when a child's routine is disrupted, and I disrupted it for 4 days.
I thought it would be a good idea to take her to her grandmother for a couple of days. After Christmas, I took her to my mother-in-law and fetched her after a week. Excited that she must have forgotten all about the boob, I got disappointed by the sight of a small hand in my shirt as I sat down. That was the first thing she wanted when she saw me.
So my mom-in-law decided to apply chili powder on my nipples. I did that and she still sucked it. She reacted to the chili, but that did not stop her from continuing to suck it off.
That week of having her with my mom-in-law was hell. It was advised not to pump as that would trick my body to continue producing milk. So I was sitting around the house with rock hard boobs that were excruciatingly painful. I was using hot towels to relieve the pain, but the pain was so excruciating, I could not help but cry.
Epson salts came highly advisable during this time. I heard that I need to swallow that to dry up the milk. I do not know if this works, but I did not use it for too long so I wouldn't know.
I am back at the gym now trying to get back into my old body. So I also need my boobs back. I was also slightly over a toddler that keeps whooping my boob out randomly in public. This is why I attempted to wean off again. This time, I was a lot more determined that the first time.
In March 2019, I went on the Evra Patch. Breastfeeding women aren't advised to use this contraceptive as it dries up their milk. That is the very reason why I started to use it in the first place. My weaning process was already underway. After a month of using the patch, I could already start to feel that my body was not producing much milk. I could go a couple of hours without a feed and did not need to pump either.
I heard from older women that children do not like the taste of Aloe Vera on the nipples. I then got a few branches from my office park. This was about two months after I went on the patch. I cut up one piece of aloe and rubbed it on my nipple without her seeing. The trick is to not let her see that you are applying it. In their little minds, if you can put it on, then surely it can get off. That's what happened with the chilli.
My first attempt at giving her the breast was a success. She first smelt it and hated both the smell and the taste. This was in the afternoon. We stayed the whole afternoon without a feed and she kept taking her formula. I reapplied the aloe at night and she said 'sies' every time she tried sucking on the nipple. She slept throughout the night and our first attempt was a success.
Day two came and the afternoon went well. Night came and my daughter was on a strike. She refused to sleep and kept us up most of the night crying for some breastmilk. I tried so hard not to give it to her, but I eventually caved. I woke up that morning feeling like an absolute disappointment. I was literally in tears because I felt like I took 1 step forward and 10 steps back.
My husband realized how important it was for me to wean her off. He devised a plan that I go to sleep in a separate room at night. He reckoned she was demanding breastmilk because the breast was right next to her. We did this for about a week. My daughter still woke up at night and cried for a couple of minutes. She would get off the bed to look for me in the bedroom in the dark. After unsuccessfully finding me, she would go back to bed, take a bottle, and go back to sleep. I would always sit up in the other room and listen to her cry. It was so difficult for me. I felt like a very selfish person at that moment. The world's most terrible mother. I don't believe in the 'cry it out' method, so listening to her cry it out was very hard.
Five days later, I went back to our bed, and I no longer hand small hands ravaging through my nightie in pursuit of milk. We had successfully weaned her off after 2 weeks of trying.
The 2nd attempt of weaning was more of an emotional journey for me that a physical one. The first attempt saw me crying because I had engorged boobs. This one saw me cry because I felt like I was making the wrong decision because my daughter was not ready to let go.
Now, I think I made the best decision for her. I see her engaging with other people and kids, and she is having the time of her life. She doesn't have her "crutch" anymore and can easily have fun in public without feeling the need for mommy. It is great to watch.
I was both happy and sad that our breastfeeding journey had come to an end, but also very proud that I managed to breastfeed until she was 20-months-old.
---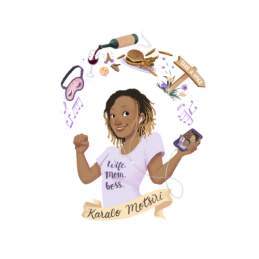 Karabo Motsiri is a first-time mom, over-sharer, lover of life, chronic napper and married to her best friend. She loves a good party because the dance floor is her happy place. She enjoys good food, good conversations, laughs a little too hard, and cries during every episode of Grey's Anatomy. She started her blogging journey because she wanted to share all the ups and downs of being a young modern mama in South Africa. Her blog Black Mom Chronicles has been featured on Ayana Magazine & SA Mom Blog. She has enjoyed airtime on Power FM and frequently writes for the parenting section of Saturday Citizen. She also works with MamaMagic on their Product Awards, Milestones Magazine, Heart to Heart blog, and the Baby Expo, which is South Africa's biggest parenting expo. 
If you found this article useful or interesting, why not subscribe to Parenty's weekly newsletter for a wrap up of that week's best content.